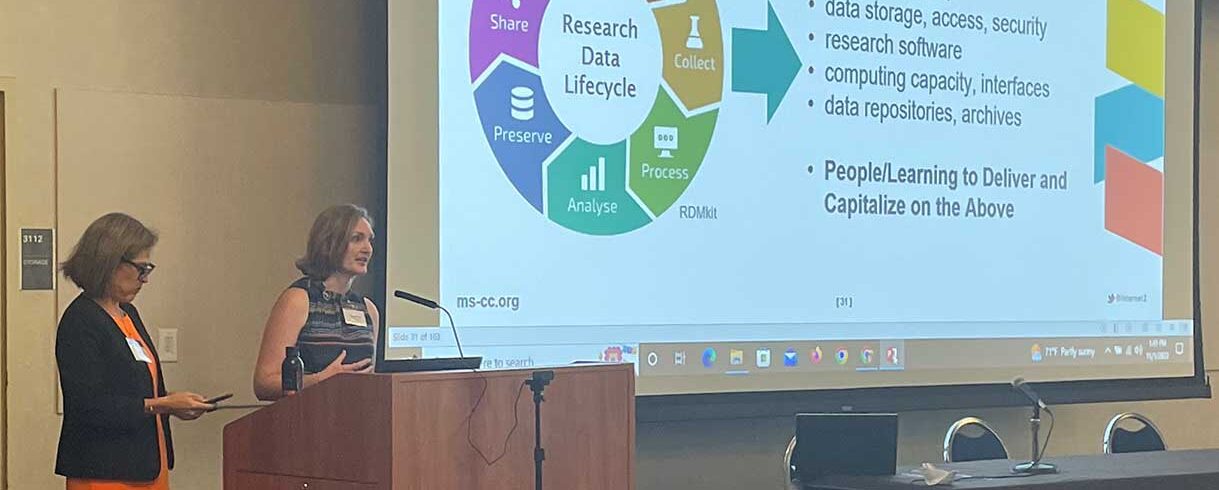 Our work at the Minority Serving – Cyberinfrastructure Consortium (MS-CC) centers on promoting advanced cyberinfrastructure capabilities on the campuses of historically Black colleges and universities (HBCUs), Hispanic-serving institutions (HSIs), tribal colleges and universities (TCUs), and other minority serving institutions (MSIs). 
But what exactly is advanced cyberinfrastructure? And more importantly, why does every campus need to have advanced cyberinfrastructure?
Cyberinfrastructure
The term cyberinfrastructure refers to all the different technology tools and resources that an institution has access to, and that allows it to support and enable many of the day-to-day activities that happen on a college campus. 
Cyberinfrastructure and Ransomare Workshops
Thanks to the NSF award, these workshops are free to attend and requests for reimbursement of reasonable travel expenses can be accommodated.
To learn more about the upcoming workshops, please visit https://internet2.edu/mscc-events.
Whether students are logging into a learning management system to take an online quiz, connecting to campus Wi-Fi on their walk from the library to the lecture hall, or streaming movies in their campus dorm rooms – access to a secure, fast, and reliable internet connection is one critical component of cyberinfrastructure, and the effectiveness of this infrastructure has a significant impact on their college experience.
Advanced Cyberinfrastructure
Advanced cyberinfrastructure also includes the complex workflows for managing research data and the storage systems used to move this data from one department to another, across campuses all over the country, and often, across institutions all over the world.
A group of graduate students working in South Carolina on a research project might need to collaborate with their peers in Florida, Hawaii, South Africa, and beyond. A faculty member whose research contributes important data on the COVID vaccine will need to share and access this data seamlessly and quickly using the National Institute of Health's databank.
Big data, which is a term used to refer to large volumes of data, is managed, stored, and shared using a variety of tools such as high-performance computing (HPC) systems, cloud computing, or a combination of both. Reliable, high-capacity networks that are dedicated to the mission of research and education provide connectivity across this ecosystem of tools.
Access, Privacy, Security
Now let's talk about how a student or faculty member can access all this research data – the data their research projects generate, and data generated by colleagues and peers across the country and around the world. That is where identity and access (IAM) management tools come into play.
Campuses need IAM tools and software to allow a student, staff, or faculty member to seamlessly access data, wherever it may be located, in a manner that ensures privacy and security. A common approach across the higher education and research community to solving this complicated problem is to use federated identity.
This federated identity framework allows a student, staff, or faculty member to use their home institution's issued credentials – such as their campus email ID and password – to authenticate their identity locally at the campus level, and seamlessly be authorized to access research data wherever it may be located. This single sign-on (SSO) environment protects privacy and sends only the necessary information to an online resource to establish access.
Investing in People
So far we've talked about the technology tools and services underlying advanced cyberinfrastructure, but there's an equally important component of this support system: the people managing and running these systems, tools, and software.
That's why workforce development is a vital part of our efforts at the MS-CC. We want to ensure that as we build advanced cyberinfrastructure capabilities on our campuses, our IT staff are equipped with the skills and knowledge needed to enable the tools, services, and software. And to create fulfilling career paths and professional opportunities in service to research and higher education.
One of the first deliverables for our National Science Foundation (NSF) Cyberinfrastructure Center of Excellence Demonstration Pilot award (# 2137123) is organizing a series of cyberinfrastructure and cybersecurity workshops on the campuses of HBCUs and TCUs. These hands-on workshops are designed to equip campus leaders with information, tools, and resources that support improving their institution's cyberinfrastructure and cybersecurity posture. 
Beyond the training, the MS-CC is also committed to supporting a vibrant community of practice across MS-CC campuses. We are cultivating a space where peers can collaborate and support one another, and build a coalition to advocate for their needs as a group.
Advanced Cyberinfrastructure at HBCUs and Other MSIs
At a fundamental level, cyberinfrastructure for the MS-CC is about the foundation needed to ensure that students, staff, and faculty at HBCUs and other MSIs have stable, secure, and reliable access to research & education networks. This supports our institutions' education and service missions.
To be able to support our institutions' research missions, and attract and retain faculty, we need to enable secure and privacy-preserving access to advanced cyberinfrastructure to enable scientific research and discovery.
All this technology – the tools, software, and resources – is powered by the IT teams working on the campuses of HBCUs and other MSIs. Whatever your IT role is with your institution, we invite you to join us for one of our two-day cyberinfrastructure and cybersecurity workshops coming to a campus near you in 2022.