Meeting Institutions Where They Are
About the MS-CC
The MS-CC is nurturing a powerful alliance to improve cyberinfrastructure capabilities at historically Black colleges and universities, tribal colleges and universities, Hispanic-serving institutions, and minority-serving institutions.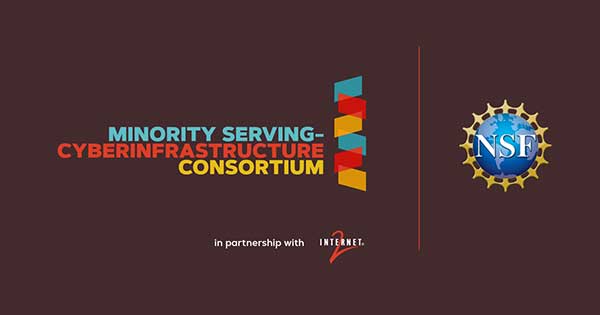 Land Acknowledgement
We acknowledge the traditional territories and ancestral homelands of Native Nations and Indigenous Peoples past, present, and future. Indigenous Peoples have stewarded these lands throughout the generations, and we pay respect to their ongoing care and keeping of these lands.
The MS-CC recognizes the importance of supporting tribal colleges and universities (TCUs) in their mission to provide education and training to Native students while also promoting tribal sovereignty, cultural perpetuation, and socioeconomic development in Native communities.
We aim to support TCUs in their efforts to enhance curricula, support faculty, and expand access to technology resources for their students.
MS-CC Today
The Minority Serving – Cyberinfrastructure Consortium (MS-CC) is a vibrant and growing community of information technology (IT) professionals, campus leaders, faculty members, researchers, and students from across our nation's historically Black colleges and universities (HBCUs) and tribal colleges and universities (TCUs). We are also joined by colleagues from Hispanic-serving institutions (HSIs) and minority-serving institutions (MSIs), as well as leaders from regional and national organizations.
The MS-CC is governed by a leadership board consisting of HBCU and TCU leaders who specialize in IT and research, and guided by the MS-CC Charter. Our approach focuses on listening, building trust, and working with our campuses to lead conversations and develop sustainable solutions around cyberinfrastructure for the long term.
By working together and in community, we strive to strengthen the student, faculty, and staff experience at HBCUs and TCUs by focusing on sustainable campus-level IT capabilities for data-intensive education and research programs.
Our Vision
We envision a transformational partnership to promote advanced cyberinfrastructure capabilities on HBCU, TCU, HSI, and MSI campuses, with data; research computing; teaching; curriculum development and implementation; collaboration; and capacity-building connections among institutions.
We will learn and grow as a consortium; are dedicated to lifting all participating institutions by advancing cyberinfrastructure for research and education across diverse fields, disciplines, and communities; and will engage as full contributors to the global research and education community.
Our Origin Story
The MS-CC was established by a group of chief information officers from historically Black colleges and universities (HBCUs) who connected at a workshop funded by the National Science Foundation (NSF OAC #1659297) in 2018. They realized they were facing similar challenges and decided to collaborate to advance capacity building, workforce development, and research support.
In 2020, they formed a partnership with Internet2, a non-profit organization focused on providing technology services for research and education. This collaboration, supported by the National Science Foundation's Office of Advanced Cyberinfrastructure (Awards # 2137123 and # 2234326), led to the development of programs and activities specifically tailored for HBCUs and TCUs.