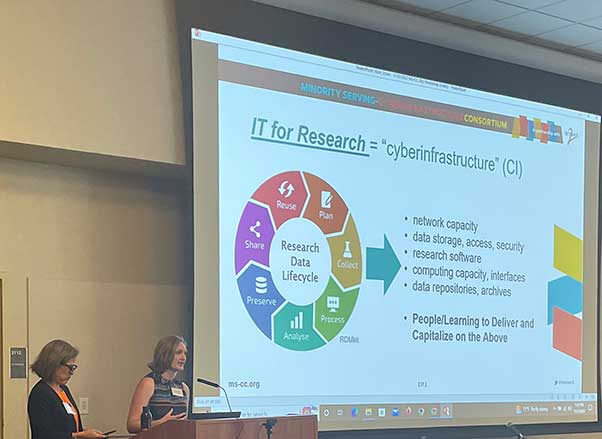 Please join us in welcoming Lauren Michael and Russell Hofmann to the MS-CC's Cyberinfrastructure (CI) Facilitation team! Russell and Lauren have been supporting the MS-CC as consultants, and are now dedicated staff to the MS-CC effective February 15, 2023.
Lauren joins the MS-CC as the Assistant Director, CI Facilitation, and in this role, she will develop and implement MS-CC's strategy for campus-oriented CI Facilitation Services. Lauren will also develop a set of opportunities for campuses to receive targeted advising on CI development, as well as dedicated, long-term support via the MS-CC's Proof-of-Concept Grant (PoCG) program, which will enable a more directed approach with a handful of MS-CC campuses.
Lauren has extensive experience facilitating CI awareness and integration by researchers, educators, and campuses. Leveraging her background in biochemistry and science communication, Lauren worked at the University of Wisconsin-Madison for ten years building teams of Research Computing Facilitators for the campus's Center for High Throughput Computing and for the OSG and NSF Partnership to Advance Throughput Computing (PATh). As a result of this work and her leadership of UW-Madison's 'Carpentries' training programs, she helped to establish the campus's Data Science Hub and, later, the American Family Insurance Data Science Institute. Lauren has long contributed to national efforts around CI professional development and CI democratization, including Internet2's Research Engagement team via leadership roles within the Campus Research Computing Consortium (CaRCC).
Russell joins the MS-CC as the CI Facilitator. Russell previously worked at the American Indian Higher Education Consortium (AIHEC) for 3 years as their Research & Education Facilitator, assisting faculty in their research and education activities by addressing their technology needs. Russell brings direct experience working with Tribal Colleges and Universities. In his new role, Russell will be providing dedicated support to the MS-CC's PoCG program recipients, facilitating CI adoption by faculty and students across these and other campuses, contributing to content within MS-CC's programming, and contributing to professional development activities for students and faculty.
Lauren and Russell can be reached at lmichael@internet2.edu and rhofmann@internet2.edu respectively.