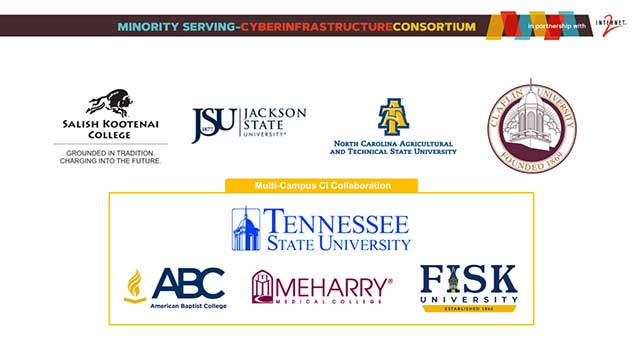 Funding will support cyberinfrastructure-centric capacity planning and workforce development
WASHINGTON, D.C., April. 13, 2023 – The Minority Serving – Cyberinfrastructure Consortium (MS-CC) and Internet2 today announced the selection of recipients for the first phase of their proof-of-concept grant program that is funded as a component of the National Science Foundation (NSF) grant #2234326.
The proof-of-concept grant program is a multi-year effort that aims to support the acceleration of cyberinfrastructure-centric education and research capacity at historically Black colleges and universities (HBCUs) and tribal colleges and universities (TCUs). Cyberinfrastructure refers to the information technology tools and resources needed to support today's computing and data-intensive curricula and research activities at college campuses.
Each grant is targeted for a campus or set of campuses, including:
Salish Kootenai College, a TCU serving the Bitterroot Salish, Kootenai, and Pend d'Oreilles Tribes in Montana;
Jackson State University, a public HBCU in Jackson, Mississippi;
North Carolina A&T State University, a public HBCU in Greensboro, North Carolina;
Claflin University, a private, liberal arts HBCU in Orangeburg, South Carolina;
a multi-HBCU collaboration led by Tennessee State University in conjunction with Fisk University, Meharry Medical College, and American Baptist College, in Nashville, Tennessee.
This initial set of grants represents a cross-section of cyberinfrastructure and workforce development priorities, planning, and improvements. Awardees will receive a combination of funding and expert consulting toward campus-sustainable cyberinfrastructure development that is matched to each institution's research and education priorities.
Ana Hunsinger, vice president of community engagement at Internet2 and the grant's principal investigator, says the proof-of-concept grant program represents an effort to develop a novel approach for cyberinfrastructure advancement at HBCUs and TCUs that, if successful, could potentially be used as a framework for advancing cyberinfrastructure at a broad range of minority-serving and under-resourced institutions.
"The proof-of-concept grants are intended to provide an initial set of campuses with funding and expert consulting that meets them where they are and supports their cyberinfrastructure needs around campus research and education priorities," said Hunsinger. "Each of the grants require individual considerations for cyberinfrastructure strategic planning and services, and we're pleased to work alongside each of the campuses to facilitate cyberinfrastructure opportunities in support of data-intensive research and education programs. Congratulations to all the proof-of-concept grant program recipients!"
The proof-of-concept grant program is being implemented in year one as a set of planning grants with the potential for additional funding over the next four years to each of the five selected recipients. The MS-CC is organizing parallel streams of engagement with all proof-of-concept grant recipients that are responsive to each recipient's proposed goals and activities.
"Cyberinfrastructure is now essential to enabling discoveries and innovations across all areas of science and engineering, and democratizing access to cyberinfrastructure is essential to democratizing science," said Manish Parashar, head of NSF's Office of Advanced Cyberinfrastructure. "This MS-CC engagement will catalyze democratization in an initial set of institutions and pave the way for better access for Minority Serving Institutions across the country."
Starting this month, recipients will begin receiving ongoing consulting and dedicated advising from teams of experts in cyberinfrastructure strategic planning and implementation to complement their proposed activities.
In year one, each recipient will apply their proposed combination of funding to local human effort and cyberinfrastructure technology development toward their specific goals, and paired with the expert support they have each proposed from the MS-CC.
For example, some of the campuses will hire new cyberinfrastructure coordinators to work with the MS-CC's experts to engage faculty and other stakeholders, while other campuses will apply some of the funding to small technology testbeds that would inform future grant proposals to federal funding agencies.
It is expected that this initial set of grants will inform the timing and structure of additional proof-of-concept grants, contingent upon the availability of funding in later years of the NSF grant.
Read the official announcement of the NSF award funding the proof-of-concept grant program. To learn more about the MS-CC, visit www.ms-cc.org.
About the Minority Serving – Cyberinfrastructure Consortium (MS-CC)
MS-CC envisions a transformational partnership to promote advanced cyberinfrastructure (CI) capabilities on HBCU, HSI, TCU, and MSI campuses, with data; research computing; teaching; curriculum development and implementation; collaboration; and capacity-building connections among institutions.
The MS-CC in partnership with Internet2 received funding from the National Science Foundation to support this vision. Nearly $3 million over two years to fund a Cyberinfrastructure Center of Excellence Pilot in 2021 (NSF Award # 2137123), and nearly 15 million over five years to support accelerating cyberinfrastructure-centric research capacity at HBCUs and TCUs through proof-of-concept grants and shared resources in 2022 (NSF Award # 2234326).
The consortium itself emerged from a National Science Foundation-funded pilot project that was awarded through Clemson University (NSF Award #1659297).
About Internet2
Internet2® is a non-profit, member-driven advanced technology community founded by the nation's leading higher education institutions in 1996. Internet2 delivers a diverse portfolio of technology solutions that leverages, integrates, and amplifies the strengths of its members and helps support their educational, research, and community service missions.
Working in close collaboration with the MS-CC is driven by Internet2's desire to ensure the equal participation of historically underserved institutions within the U.S. and global research and education communities. The participation of HBCUs, TCUs, HSIs, and other MSIs in our shared cyberinfrastructure is critical to our collective success in enabling access to the brightest minds, wherever they may be located.
Internet2 offices are located in Ann Arbor, Mich.; Denver, Colo.; and Washington, D.C. For more information, visit https://internet2.edu/ or follow @Internet2 on Twitter.
Media Contact:
Sara Aly
saly@internet2.edu